Providing Value for Customers Through the Well Lifecycle
With our experienced crews and modern equipment, we're well equipped to help our customers harness the potential of their assets.
Pressure Pumping
Hydraulic Fracturing
ProPetro is a primary provider of hydraulic fracturing services to E&P companies in North America. Our fleet has been designed to handle the highest-intensity, most complex hydraulic fracturing jobs, and is largely standardized across units to facilitate efficient maintenance and repair and reduce equipment downtime.


Cementing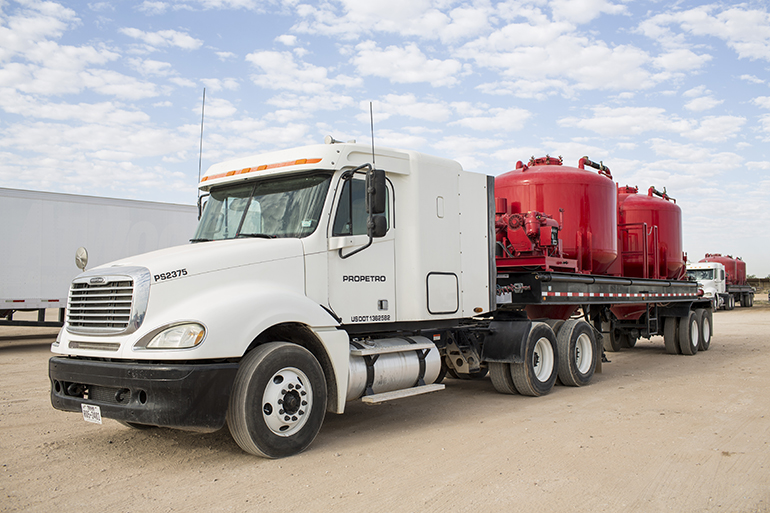 ProPetro's Cementing Division consists of 25 total units. 18 units are located in Midland, Texas to service the Permian Basin and the other 7 located in Vernal, Utah, ready to service the Rocky Mountains. Our entire fleet is equipped with state of the art fluid density monitoring systems as well as the ability to record and chart densities, volumes, and pressures. These advances make ProPetro's Cementing fleet capable and ready to service our customer's cementing needs.
ProPetro's fully equipped, in-house labs, located in both basins, enables the customer to reap the benefits of the opportunity to have flushes and cements tailored specifically to their needs. Whether the customer's situation calls for a high density kick-off plug or a sub 10 pound cement, ProPetro's team will have the solution.
ProPetro's Cementing Division can handle a range of solutions, from the smallest casing leaks or cover 3 mile laterals, due to the experienced management team and advanced monitoring systems and equipment.
Silvertip
Silvertip Completion Services Operating, LLC, is a Midland, Texas-based oilfield services company that owns and operates 23 wireline units and a best-in-class pumpdown fleet. Silvertip has deep data collection capabilities, a culture of data-driven decision making and an established track record of safety, providing operators with efficient wireline and pumpdown services including logging, perforating and pressure control. The company was founded and funded by Silvertip management, CrownRock LP, and Lime Rock Partners.

Careers: See Available Positions at Silvertip