Providing Value for Customers Through the Well Lifecycle
With our experienced crews and modern equipment, we're well equipped to help our customers harness the potential of their assets.
Pressure Pumping
Hydraulic Fracturing
ProPetro is a primary provider of hydraulic fracturing services to E&P companies in North America. Our fleet has been designed to handle the highest-intensity, most complex hydraulic fracturing jobs, and is largely standardized across units to facilitate efficient maintenance and repair and reduce equipment downtime.
Cementing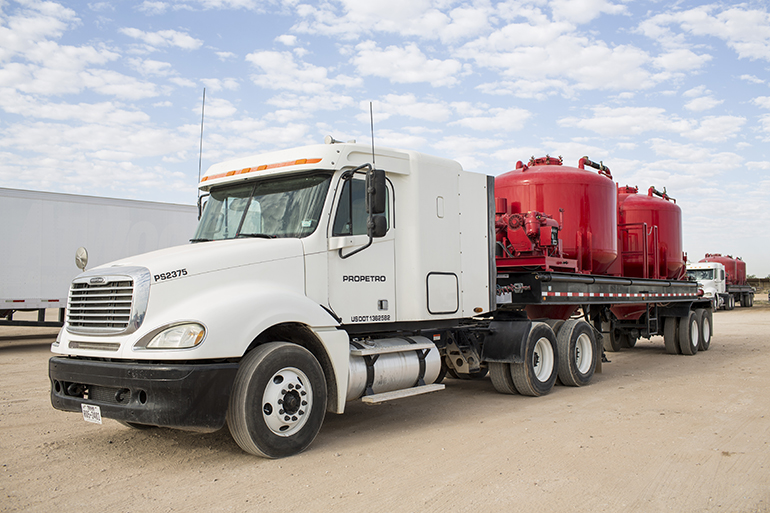 ProPetro's Cementing Department consist of 13 total units, 7 of which are in the Permian Basin and the other 6 located in the DJ Basin. All of ProPetro's cementing units are capable of jobs both simple and complex including casing, plugs, and squeezes. The cementing division also has a dedicated lab for in house testing.
Acidizing
ProPetro's Acidizing Department comprised of 10 high pressure pumps and 4 combo units all of which are in the Permian Basin. This department is equipped to perform jobs such as toe preps, pump downs, acid jobs, salt/ball diversion jobs, energized acid jobs, and acid delivery in lined transports. The acidizing division also has a dedicated lab as well as pumping equipment able to digitally monitor stimulations.
Other Services
Coiled Tubing
ProPetro's Coiled Tubing Division operates one 2-inch coiled tubing unit, one 2 3/8- inch unit, and one 1 1/4-inch unit in the Permian Basin. These services are primarily used to drill-out frac plugs, apply nitrogen, fish, and cleanout obstructed wellbores.
Flowback
ProPetro's Flowback Division provides methanol pumping and flowback-control equipment rentals in the Permian and Mid-Con region. This division is equipped to monitor and control the return of fluid after a hydraulic fracturing application.
Surface Air Drilling
ProPetro's Surface Air Drilling Department provides cost effective pre-set surface drilling services to target depths of ~4,000 primarily in the Uinta-Piceance Basin and the DJ Basin. All of our rigs are very mobile and operationally efficient.